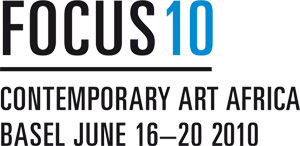 After premiering in 2009 FOCUS is ready to launch its second edition. FOCUS10 is designed to present and connect the vibrant African art scene to the world. Conceived as a complement to Art Basel (June 16-20, 2010), the fair showcases Galerie Peter Herrmann (Berlin) and features emerging and established artists from Africa and the Diaspora in a show curated by Christine Eyene (London) and Lerato Bereng (Johannesburg) and supported by Fondation Blachère (Apt) and Pro Helvetia Cape Town. In a relaxed and intimate atmosphere visitors of FOCUS10 can expect to enjoy a huge variety of artistic production from the diverse scenes of the African continent and from the African Diaspora.
Venue: Utengasse 32, 4058 Basel
Vernissage: Tuesday, June 15, 6 p.m.
Opening hours: Wednesday, June 16 – Sunday, June 20, 1 p.m. – 8 p.m.
Specials:
Chocolate Banana – a video project in a Stern-taxi touring around in Basel by Bill Kouelany and Goddy Leye. Call: 061 691 44 44
Carlo Mombelli and the Prisoners of Strange (European Edition) – Jazz concert on Thursday, June 17, 2010, 8 p.m.
For further details please refer to our homepage:www.focus10.ch.