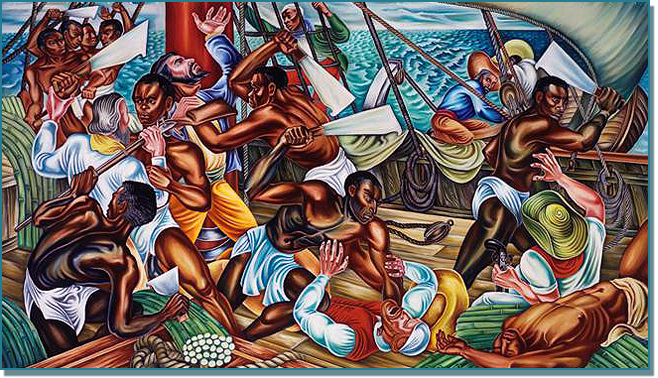 The Mutiny on the Amistad, 1939
In 1938 Alabama's Talladega College commissioned acclaimed African American artist Hale Woodruff to paint six large-scale murals portraying the Amistad mutiny and its aftermath, as well as the founding of Talladega College.
October 6, 2012 – February 28, 2013
Visit website for more information
A set of murals depicting events in African-American History has been restored and will tour for the first time through a collaboration of Talladega College in Alabama, which owns the murals, and the High Museum of Art in Atlanta. In 1938, Talladega, one of the country's oldest historically black colleges, commissioned Hale Aspacio Woodruff, an African-American artist who studied with Diego Rivera, to create the murals for the lobby of its new library. Comprising six canvases, the murals depict events like the uprising on the slave ship La Amistad, scenes from the Underground Railroad and the founding of the College. This exhibition will also include oil studies, paintings, drawings, and photographs used by Woodruff as historical in constructing the murals, and examples of other relevant small scale mural cycles by Woodruff.